This 1960s and 1970s goddess hit a radiant sensuality that very few women have ever achieved.
Here's an excerpt from wiki:
Ekberg was born in 1931, the oldest girl and the sixth of eight children. In her teens, she worked as a fashion model. In 1950, Ekberg entered the Miss Malmö competition at her mother's urging, leading to the Miss Sweden contest, which she won. She consequently went to the United States to compete for the Miss Universe title, despite not speaking English.
Although she did not win Miss Universe, as one of six finalists she did earn a starlet's contract with Universal Studios, as was the rule at the time.[1] In America, Ekberg met Howard Hughes, who at the time was producing films and wanted her to change her nose, teeth and name (Hughes said "Ekberg" was too difficult to pronounce). She refused to change her name, saying that if she became famous, people would learn to pronounce it, and if she didn't become famous, it would not matter.
As a starlet at Universal, Ekberg received lessons in drama, elocution, dancing, horse-riding and fencing. Ekberg skipped many of the lessons, restricting herself to horse riding in the Hollywood hills. Ekberg later admitted that she was spoiled by the studio system and played instead of pursuing bigger film roles.
While at Universal, Ekberg caught the attention of legendary director and photographer
Russ Meyer
, who went on record numerous times to say she was the most beautiful woman he ever photographed and that her 40D bustline was the most ample in
A list
Hollywood
history, dwarfing rivals
Jayne Mansfield
and the British actress
Sabrina
.
[

1

]
[

2

]
Ekberg also delighted
gossip columnists
with her social life. She was linked to many famous men, and was given the nickname "The Iceberg" because of her mysterious demeanor.
Federico Fellini gave Ekberg her greatest role in La dolce vita (1960), in which she played the unattainable "dream woman" opposite Marcello Mastroianni; then Boccaccio '70 in 1960, a movie that also featured Sophia Loren. Fellini would call her back for two other films: I clowns (1972), and Intervista (1987), where she played herself in a reunion scene with Mastroianni.
La Dolce Vita was a sensational success, and Anita Ekberg's uninhibited cavorting in Rome's Trevi Fountain remains one of the most celebrated images in film history.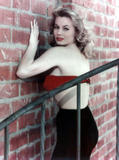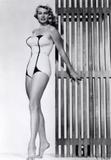 Here is a Rapidshare link to 88 pictures of Anita (including some fully nude ones):
Anita Ekberg Pictures